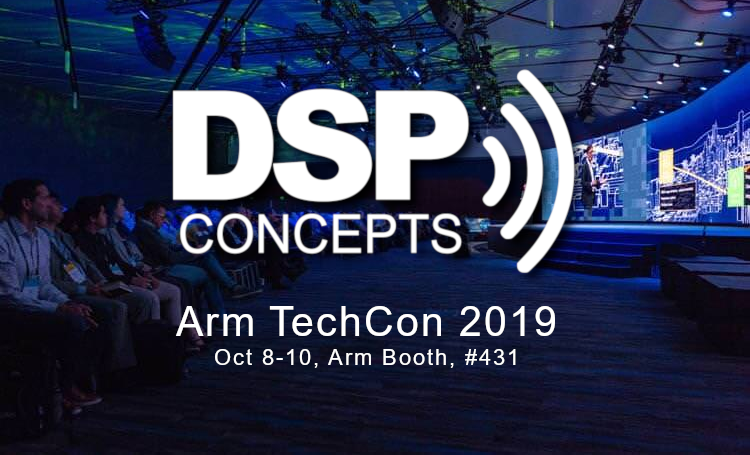 DSP Concepts delivers "Audio Made Easy" at Arm TechCon 2019
Innovative embedded-audio company to demo small-footprint, far-field Voice UI for Arm Cortex-M and new Audio Weaver® 8.
Santa Clara, CA – October 8, 2019 – DSP Concepts, Inc., a developer of embedded audio processing solutions, will be demontrating its latest technologies at the upcoming Arm TechCon, October 8-10, 2019, at the San Jose Convention Center. The demos will take place in the Arm booth, #431. The theme of the demos will be "Audio on Arm Made Easy", showing how the audio features demanded by modern consumers can be easily added to systems powered by Arm® Cortex®-M and Cortex-A processors.
Technologies to be demonstrated include:
Small footprint, Far Field Voice UI for Cortex-M: Voice-control is the fastest growing audio feature for embedded products. Using TalkTo™ voice front ends powered by Audio Weaver, Sensory's TrulyHandsfree™ wake-word engine, and STMicro's STM32H7 multicore SOC, DSP Concepts shows how Cortex-M based products can have a voice interface that's more responsive and reliable than in today's more advanced smart speakers. At the same time, DSP Concepts' Audio Weaver platform can be used to efficiently add playback audio features, delivering voice-safe speaker management, optimizing sound quality, improving bass response, increasing dialog clarity and maximizing usable volume.
Audio Weaver 8: The new generation of the Audio Weaver platform offers even more advantages for product makers. Now the AWE Core™, the embedded processing engine at the heart of Audio Weaver, can run on multiple processing cores in a product, giving product developers efficient access to the full resources of modern SOCs.  To further simplify audio development, the new AWE Core version also features a simplified API, making it even easier to integrate Audio Weaver into a product's embedded software.
The company will also be discussing its cutting-edge, multi-channel voice interface solutions—including the unprecedented ability to perform multichannel AEC (up to 7.1.4 channels) on Cortex-A based products. This first-of-its-kind multichannel Voice UI is now available in Braun Audio's new LE line of HiFi smart speakers.
More Information: