Hello
Need some help with flash manager and default bootup of Audioweaver binaries.
OK. I can upload  from Audioweaver to the hardware and run the script no problems.
I can convert the script to binary and upload that into flash memory with the boot option enabled. Also I can save the file on the flash to a file on the HD and do a file compare to make sure there is no file corruption. So far so good ;)
The problem I am having is when I reboot the hardware the AW binary is not being run automatically.
The other issue I noticed is that if I click on the file in the flash manager and click on "Execute File" I get the following.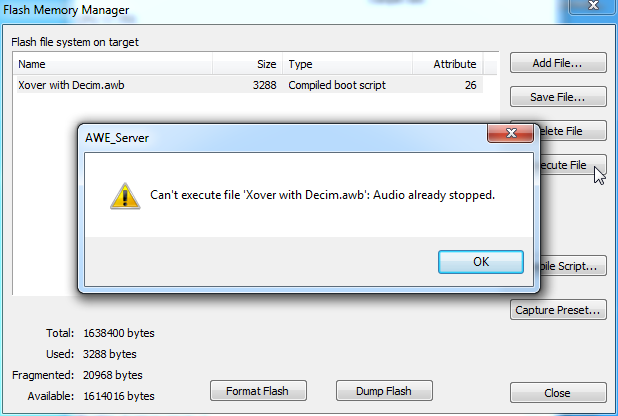 Now if I go Audio -> "Audio Start" and then click on "Execute File" it's working ok so the issues are perhaps the Audio is not being started properly when the system is being reboot.
I must confess that I handle the Sport interrupt different on my system to your demo. On my system the SPORT interrupt is always enabled and I just gate the Audioweaver processing using a flag rather than disabling it when the Audio stops. Perhaps this is causing some issues if you are reading some of the sports registers to see if interrupts have been enabled or not.
Regards
David